At night during EICMA there are usually interesting events put on in Milan. One event I attended was the Zero motorcycle launch of its 2020 models.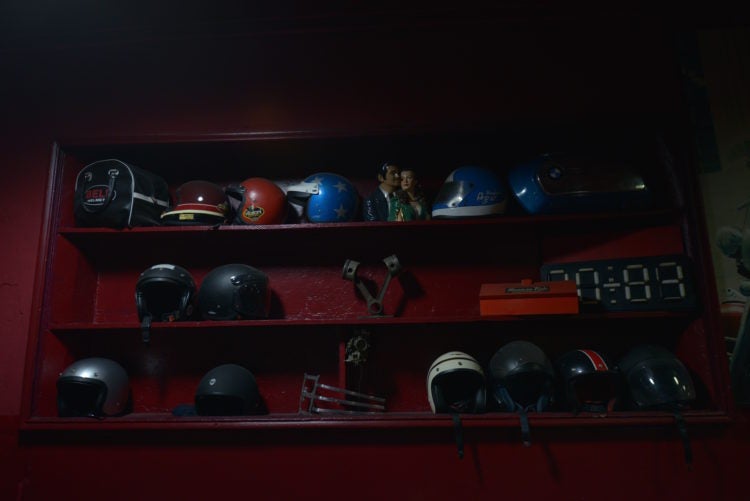 This "fuori EICMA" event for the Californian brand was held at Officine Mermaid, a beautiful motorcycle workshop, where professionals turn their customers' dreams into reality. This kind of concept of motorcycle workshop/store has become very popular in the past 3-4 years.
Officina Mermaid, was opened 10 years ago, before building custom bikes was as popular as it is now and long before Milan's hipster area, Isola, became what it is today.
The Officine, has a pungent smell of gasoline mixed with oil; the red walls and the roughed up hands of the workshop manager, transmit a clear sense of authenticity and passion in his store.
The workshop, grunge but still stylish, is contrasted with the absolute geometrical precision of the sister shop nearby. Here motorcycles and fashion got fused together, creating an irresistible combination.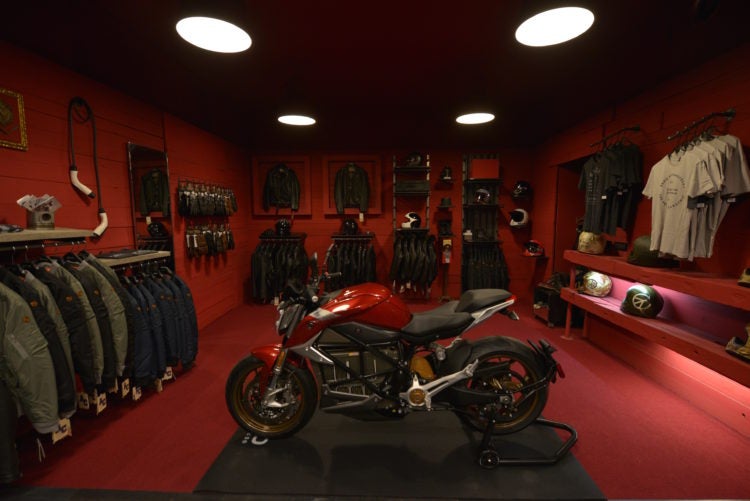 The red colour still pervades throughout the whole establishment, but this time filled with a more structured display of items, that have been placed perfectly to match the colour scheme of the venue.
The event was partnered with a nearby lounge bar, that served us refreshments, while the Zero team told us about their history and their new products.
Zero has come a long way since its humble beginnings; this Santa Cruz operated company has now extended its reach to many different countries and is also partnering with different brands, for example Qooder, to provide zero-emission engines and technology.
Also at the event was a Spanish rider, who rode his customized Zero DSR Bike from Valencia, Spain, to Milan, in just a few days.
The CEO and CFO of Zero, expressed their gratitude for a successful year with the brand, which saw the release of some pretty impressive bikes that are able to perform shoulder to shoulder to some of the most powerful bikes in the world.
Their R&D is working hard to improve the technology and to provide better range. The range is still one of the most common objections to electric vehicles. We were told that there will be a release of two new models, one in April and one in October 2020, and these will bring the company a lot of attention.
Zero's SR/F, the top of the Zero SR line, can produce an unbelievable 190Nm torque from a 14.4 KWh battery. Its range may vary, like any electric or combustion-based vehicles, depending on riding conditions, but it is roughly around the 160km with a full charge (and 200km with the optional 3.6kw power tank).
The top speed is 200km/h, and the weight is 220kg. This model sets a new bar for the Californian brand, which also participated in the 2019 TT (Isle of Mann) with one of these vehicles.
The top of the ZERO DS line is the R version, which is a more "travel-oriented" motorcycle. The DSR seems to be the perfect companion for the city and the short weekend zero emission rides. Its engines deliver a more "relaxed" 52kw at 3850 rpm but still a surprising 146 Nm torque. Range here is slightly less with 143 km on a full charge and top speed of 158km/h.
The Black Forest Edition comes with Trax hard panniers and crash bars. All bikes could be equipped with an optional power tank, which extends the range by almost 40%.
Let's not forget one of the crucial aspects of these motorcycles: charging. Zero motorcycles can be almost fully charged in about 6 hours (depending on bike). Charging speed can vary depending on the charging system, 3.3K or 7.4 KW are the most common. At home, the Scalable Quick Chargers can cut charging time by half.
For many people today, it is unthinkable to accept the fact that we may have to leave a motorcycle to charge after a ride. But, isn't this the case of modern smartphones compared to the old ones? Didn't we freak out when we switched from our old Nokia, that lasted a week with one charge, to modern smartphones, that have to be charged daily (or multiple times per day)? I believe electric motorcycles will become part of our lives as much as cellphones and laptops did. It is just a matter of time now, although it may take longer for Adventure and Touring bikes.